Coinovy's Crypto Predictions Could Help Investors Make Better Investments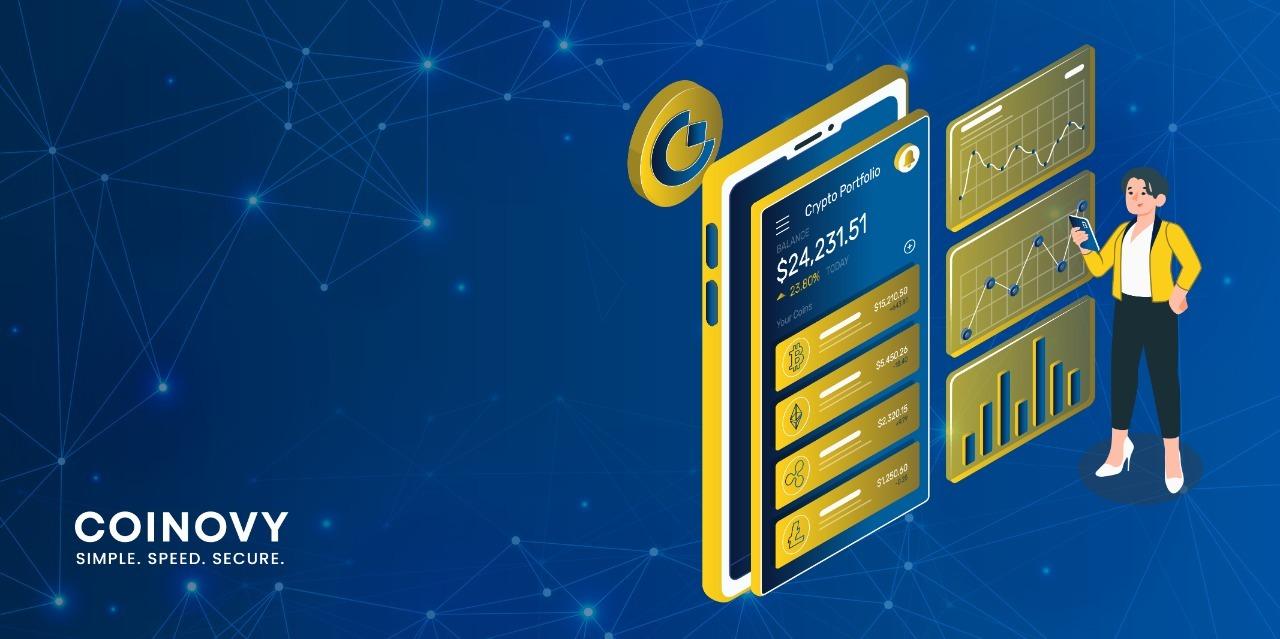 For an industry just over a decade old, the crypto market has seen remarkable success, growing from strength to strength every year. As of October 2021, there are over 300 million crypto investors worldwide. This accounts for almost 4% of the population and the number is steadily growing. It seems as though everyone around is riding the crypto wave, looking to take a share of the profit pie. 
Yet, investing in crypto comes with its own set of challenges. The volatility of assets in this new market puts investors in a constant dilemma. With prices fluctuating every minute, picking the right cryptocurrencies for investment becomes a challenge, and picking the wrong ones leads to permanent losses. 
For new investors in this space, keeping track of their investments and rebalancing their portfolios is quite challenging. Especially when they have limited technical knowledge and there is no reliable source of information to guide their investments. This is why new investors are skeptical of entering this space. 
However, Coinovy's novel artificial intelligence (AI) based crypto predictions could help new and seasoned investors make better decisions.
Unleashing Prediction-Based Investments
At its core, Coinovy is a platform that is taking cryptocurrencies to the market. By eliminating the major complexities involved in buying, selling, and trading cryptocurrencies, Coinovy is aiming for a future where cryptocurrencies and their innovations are easily available for the use of an everyday person. The platform has a whole suite of innovative products designed for this exact goal and the crypto predictions tool is one of them. 
Leveraging the power of AI, the predictions tool is designed to make future predictions for over 150 assets with over 90% accuracy. This means that investors will now have a clear understanding of the direction in which the assets are heading and can make better investments. Based on these timely predictions, users will also be able to rebalance their portfolios to ensure that they're ahead of the market. Apart from investors, even traders can vastly benefit from this tool.  They can easily monitor prices across different exchanges to close the best possible deal. 
Users of this tool also get real-time price, portfolio, and transaction updates. This crypto-predictions tool can be a real game-changer for the crypto market. By guiding investors at every step and helping them make better decisions, this tool is poised to bring a flood of new investors into the crypto market. 
Building the All-in-One Crypto Platform
Coinovy is a platform with quite a unique vision. While revolutionizing investments with its predictions tool, the platform has also built a wide range of innovative financial products. The platform features a multi-currency wallet, a cross-chain bridge, instant loans, and cross-border transactions. The most unique feature, however, is the crypto-fiat conversions that allow users to withdraw cryptocurrencies to a debit card for everyday use. With such innovative products, Coinovy becomes the bridge between DeFi and TradFi. It also lowers the barriers to the crypto market, making it more accessible and useful to people worldwide.
Disclaimer: This is a sponsored press release, and is for informational purposes only. It does not reflect the views of Crypto Daily, nor is it intended to be used as legal, tax, investment, or financial advice